Attending ICCV 2015
Conference Venue
ICCV 2015 be held at the
CentroParque
Convention Center in Santiago, Chile on December 11-18, 2015. The associated workshops and tutorials will be held at the
Santiago Marriott Hotel
.
Getting to Centro Parque
The conference center entrance is located near the center of the park.
Walk in through one of the gates and make your way toward the center.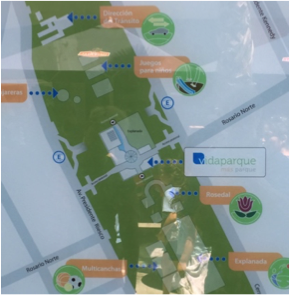 You will see a small mall with a glass dome ahead of you. Enter the dome.
Go down two levels to level B.
You have arrived!!
Hotels
The conference has negotiated discounted rates at the hotels below. Please book early, we cannot guarantee availability or rates after the dates listed to the right of each hotel.
Conference Hotels:
Distance to CentroParque
Reservations Link for Negotiated Rate
Negotiated Rate Valid Through
Santiago Marriott Hotel


0.65 kilometers
8 min walking
$189-204 USD/night
November 24, 2015
Please note that the Marriott Hotel has the most space available and is well situated to both the workshops and the conference.
Courtyard Santiago Las Condes


0.55 kilometers
7 min walking
$169-189 USD/night
November 23, 2015
Grand Hyatt Santiago


1.00 kilometers
12 min walking
$183-202 USD/night
November 11, 2015

For questions regarding hotel rooms please contact Liz Ryan.




Transportation

From/to the airport: Santiago International Airport (SCL) is located approximately 20 Kms. west of downtown Santiago and 26 Kms. west of the conference hotels and venue (Centroparque). There are three main options to get to the city from the airport:
Airport Taxi: We highly recommend that you take a taxi to get to your hotel as this is by far the most convenient, fastest (25-40 min depending on traffic) and reasonably priced (USD 30-35) option. In addition to Uber, there are three main taxi companies that operate at the airport: Taxioficial, Transvip and Transfer Delfos. These companies have counters after you exit customs and before you exit into the main airport lobby. They have a flat rate of USD 30-35 depending on your destination and you can pay by credit card, so you will not need to worry about getting Chilean pesos at the airport. You can also reserve and/or pay the taxi ahead of time using the website of these companies. While these companies also have counters after you exit into the main lobby, it is easier to book the taxi inside as it is less crowded. In the main lobby, many unofficial taxi drivers may approach you. We do not recommend that you take an unofficial taxi as they may take advantage of unknowing foreigners and charge you a much higher fare.
Airport Vans: Taxioficial, Transvip and Transfer Delfos also offer a shuttle service (shared taxi). The main advantage of a shuttle over a taxi is that it is cheaper (around USD 10). However, depending on the final destination of other passengers, it will take you an additional 30-40 min to get to your hotel.
Airport Buses + Metro: If your budget is extremely limited and you have plenty of time to spare, you can take an airport bus followed by the metro to get to the conference venue and hotels. This is by far the cheapest option (USD 2-3 for the bus and USD 1 for the metro). However, this is the least recommended option because it will take you about 2 hours, some of the connections between the bus and the metro are located in slightly isolated places, and the metro could be extremely crowded during rush hours (7-9 AM and 6-8 PM). Anyhow, if you choose this option, the bus companies are Centro Puerto and TurBus, and are located in Level 1 right outside the airport terminal. You should connect from the bus to Metro Line 1 in the direction of Las Condes. The connection in Pajaritos metro station is easy and will save you time during rush hours, but the station is somewhat isolated, so you should avoid making the connection at night. On the other hand, the connection in Los Heroes metro station is centrally located in downtown Santiago, but it is a bit more complicated.
In Santiago: Santiago has a wide range of fairly frequent and inexpensive public transportation options, as detailed below. Please see here for more detailed information.
The Santiago Metro System is one of the most modern in Latin America. It is fairly inexpensive (less than 1 dollar per trip) and it is 7th in frequency worldwide, but the service ends at 11 PM and it can be very crowded during rush hour (7-9 AM and 6-8 PM). The Metro and Bus systems are integrated. That is, if you buy the "Bip Card", which you can buy in any metro station for about 2 dollars, you can use it to transfer from the metro to the bus system without having to pay again. Alternatively, if you intend to ride the metro only, you can buy metro tickets directly without having to buy the Bip Card. The conference venue and hotels are located about 10-15 min walking distance from Manquehue Metro Station in Line 1 and most city attractions are located near a metro station in Line 1 or 5: for downtown attractions use Universidad de Chile (L1) or Plaza de Armas (L5) metro stations, for the bohemian district Barrio Bellavista use Baquedano metro station (L1), for the Providencia district use Pedro de Valdivia metro station (L1), and for the main business district use Tobalaba or El Golf metro stations (L1).
The Transantiago Bus System, while integrated with the metro system, is a little bit more complex to use as there are many buses going to many places. So, we do not recommend it unless you are going off the beaten path. You can check the bus routes in the Transantiago website (unfortunately the information is only in Spanish).
Taxis are a great option as they are available everywhere and run until late at night. Prices are also very reasonable (roughly 1 dollar per kilometer). One problem is that most taxi drivers will speak a very basic level of English, so be prepared to deal with some communication issues. In general, taxis are safe in Chile, you can catch a taxi in the streets without problems. There are stories about some taxi drivers taking longer routes to charge more money to tourists. While these stories are unfortunately true, it is also true that they are the exception and not the general rule. Popular apps to call taxis are Uber, EasyTaxi, and SaferTaxi.
Near Santiago: If you plan to take a trip to some of the local wineries in the Maipo Valley or Casablanca Valley, you can either take a taxi or rent a car. If you plan to visit Valparaiso, Viña del Mar, or other neighboring cities, Santiago is exceptionally well connected through interurban buses, which are safe, reliable, and very frequent. One bus company that is commonly used is TurBus, which is easily accessible via Universidad de Santiago Metro Station in Line 1. If you plan to visit the Wine Country (Colchagua Valley), then it is best that you rent a car and drive to Santa Cruz, which is about 3 hours south of Santiago.
Around Chile: Many of the main attractions in Chile (San Pedro de Atacama, Easter Island, Lake District, Torres del Paine, and Patagonia) will require you to fly. The two main airlines are LAN and Skyairline, both of which are extremely safe and reliable, with LAN being a more traditional airline, and Sky being a low-cost airline. Overall, traveling in Chile is extremely safe, so feel free to enjoy what Chile has to offer.
Parking: Each hotel has parking available onsite. The conference venue will have limited parking due to our event taking up most of their underground lot. The hotels are within walking distance of the conference venue.
Additional Transportation Information:
What to Visit
Tourist Attractions
Museums
Wineries in Santiago
Organized Tours and More
Food Near Convention Center and Hotels
Restaurant Districts
Nightlife
Chileans go out very late. Dinner would typically be at 8.30-11PM, bars and pubs 11PM-1AM, and clubs 1AM-4AM.
Safety
Santiago is one of the safest capitals in Latin America, especially the North East side of the city (Providencia, Las Condes, Vitacura) where the conference venue and hotels are located. That said, most common sense safety rules that apply to large metropolises such as New York, San Francisco, Paris, or Tokyo, apply also to Santiago. In general, all the areas near the conference venue are very safe. So our main recommendation is to be aware of pickpockets. There have been cases of people stealing bags in areas close to the conference venue, specially bags with cameras and laptop computers. The typical situation is unattended bags in public places, like restaurants. Burglars are very professional, they are typically very well dressed with a tie and a nice suit, so they seem to be regular restaurant customers, but they are waiting for the right moment to steal a bag. We know how important your cameras and computers are, so please do not leave your bags unattended.